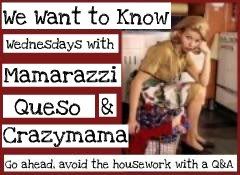 It's HUMP DAY and I've decided to play WWTK! It's a bunch of nosey questions that some bloggers want everyone to answer so they can stalk you.
So here are the questions:
Everyone seems to have a quirky family situation-- what is something unique about your family dynamic?
We're all Indians. Well, technically we're only part Indian, and none of us are registered. So the US Government doesn't recognize us as being Indians. Apparently Dad's great-great grandfather refused to register and left the reservation in Oklahoma to move across the river to Arkansas. It's a long story involving a land dispute, a shootout, and running from the law. So anyway,
gimme back my land, white man!
What is the most stressful aspect to blogging (aside from the network going down)?
The most stressful aspect of blogging is when I haven't written anything in awhile and I feel the need to write
something
, only I have no inspiration at all. Some of those forced posts are the best I've ever written. Many are the worst.
We all end up on a blog at some point in our day, but name your top 3 favorite websites you flock to daily (non blog)!
Yahoo, Gmail, Facebook
What's your sign? Believe in it or not, does any part ring true to you?
They tell me I'm an aquarius, and then they turn around and say that the planets have moved and so I have to be something else. Then they say it was all a joke and really I'm a No U-turn. Whatever, all I know is that research does seem to indicate that the season you were born in matters with regard to certain aspects of your personality, such as overall tendency towards happiness or depression. And I know that things which affect Earth's magnetic field and other environmental factors most definitely affect all of us because people are real jackasses in traffic on days when funky things are happening, such as earthquakes, a cold snap, or the moon colliding with the Earth. People always get bitchy on those days and drive like mental patients. And then I am forced to shoot them all.
IceCream!! ICECREAM!! We all scream for icecream! Name your favorite flavor/brand! (Its hot here, can't help it)
I like several, although I don't eat them very often. Mint Chocolate chip or Rocky Road are my top two. But I won't turn down some chocolate fudge either.
BONUS QUESTIONS
A. Name the blog you credit for linking up with us today?
Lightning Bug's Butt
showed me the way to this. So blame him when I stay too long and won't go home.
B. Suggest a question you want to see in future WWTK's!
Um, how about "what's the worst thing anyone has ever done or tried to do to you during sex and how did you react to it?"
And now, further proof that Japan is the weirdest nation on earth ...
You have read this article japanese watermelon eating girl / meme with the title WWTK. You can bookmark this page URL http://thebohemianbunny.blogspot.com/2011/06/wwtk.html. Thanks!